After the previous succesful projects in Miloso, this year we want to commit ourselves to the Bicycle project. This is a project in which we want to raise money to provide multiple Buffalo Bicycles in Miloso. Currently there are no properly working bicycles and larger distances are mainly covered by foot. 
By supporting several bicycles life can be made a lot more mobile. That is one of the reasons why we want to start the project supporting bicycles to Miloso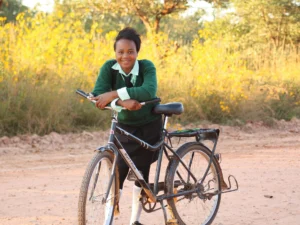 In this we are choosing for the Buffalo bicycle from World Bicycle relief. Why exactly this Buffalo bicycle? Because these bikes are suitable to endure rougher terrain and the luggage carrier can hold up to 100kg of load. More information can be read on the website of World Bicycle Relief.
In the start of this project we aim to deliver six bicycles this year, train two local mechanics and provice them with enough spare parts.
To make all of this possible we need financial funds. Soon we will anounce more information on upcoming sponsor activities, we are looking forward!